Stashluk Plumbing, Heating, Air Conditioning & Generators – Serving the Summit NJ Area
Since 1948 Stashluk Plumbing, Heating, Air Conditioning and Generators has been serving homeowners throughout Union, Morris, Essex and Somerset counties with expert installation and servicing of plumbing and HVAC systems, and standby generators.
Stashluk is the Right Plumber for the Toughest Jobs
Stashluk is accustomed to handling the most complex jobs. We are fully knowledgeable of the unique structural features of the many homes in the area; often with complicated plumbing issues that should not be left to the less experienced. We have seen and remedied every plumbing, heating, drainage and air conditioning problem imaginable.
Whether in you live in a center hall colonial with heating and plumbing that's well past modern day standards, or a post-war ranch with forced air heat and the special comfort issues it poses, Stashluk will fix things when systems break down, or install new furnace, air conditioning, and hot water systems that complement the structure of your home while making you and your family comfortable in every way.
Stashluk can help with any plumbing, heating, air conditioning and standby generator need, including:
General plumbing repairs
Steam and hydronic boiler heating repairs
Water heater repair and replacement
Appliance Installation
Sewer and drain cleaning services
Related plumbing services
HVAC and generator installation and repairs
Management Team
James C. (Jim) Huettenmoser,
President
Jim Huettenmoser began his career in the early 1970s specializing in industrial fluid pumps and air compressors for a subsidiary of Worthington Pump. He continued his education in diesel engines and later joined Conrail working on heavy locomotive overhaul projects. He subsequently became a troubleshooter for locomotives and track equipment in the Tri-State area. In 1983, Jim left the trains behind and entered the plumbing business eventually earning his Master Plumber license. When his father in law, Edward J. Stashluk, retired in 1990, Jim and his wife, Mary, purchased the business and have remained its owners ever since. Jim is an active member of the community. He joined the Chatham Township Volunteer Fire Department in 1984, and has held all officer positions up to assistant chief. He is currently an associate member of the Green Village Volunteer Fire Department. He sat on the board of directors of the Eastern Heating & Cooling Council, and formerly served as its vice chairman. In addition to professional and charitable work, Jim is a self-described "gearhead." He has a passion for anything with an engine and is an avid fan of classic muscle cars, hot rods, motorcycles and boats.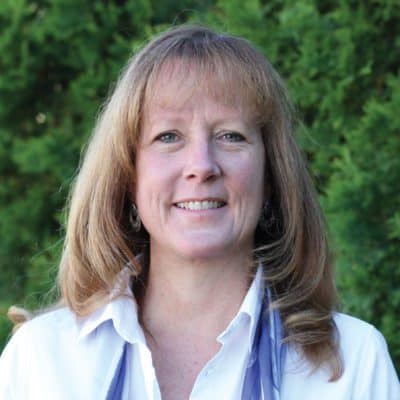 Mary Stashluk Huettenmoser,
Vice President
Mary holds an MBA from Fairleigh Dickinson University. Mary worked for Citibank and Merrill Lynch in New York City for many years in the investment research group prior to returning to the family business. In addition to holding the position of vice president at Stashluk, Inc., Mary is the president of Coastar, Inc., a property investment/management group where she oversees commercial and residential acquisitions, leasing and property management. In addition, Mary also holds a Master Plumber license. Not one to be tied down, Mary is also a pilot and holds a single engine aviator's license. Mary, Jim and their children are actively involved in myriad community activities and service programs throughout the area.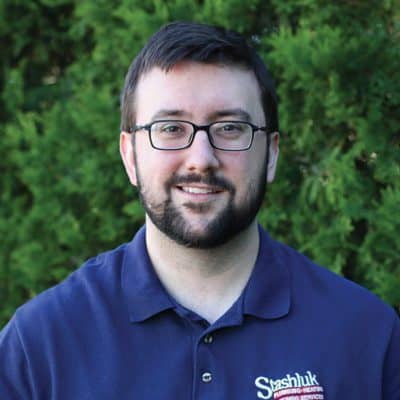 Dale grew up in Chatham and holds bachelor's degrees in Computer Science and Economics from Rutgers University. While overseeing the financial and administrative aspects of the company, he works to keep the office up to date with the latest technology, ensuring that all systems are functioning properly, providing support to technicians and customers, and improving workflow so our technicians can concentrate on what they do best.
Brands that Stashluk Trusts and Installs